GOOGLE REVIEWS CAN GIVE A BUSINESS A BIG CREDIBILITY BOOST, WITHOUT YOU HAVING TO SPEND A PENNY!
Nowadays nearly everyone's got a smart phone or at least some kind of access to the internet, and for the majority of people, if they want to know something or find something they turn to Google for the answer!
If you want to know more about a business you check them out on Google, and their Google reviews form an important part of that. Hearing what people think about a business can support you in making the decision of whether you are going to use them or not.
Think about it, if you were looking for a local gardener, you'd more than likely Google it.
More than one Gardener will show up in the search results but who will you contact to help you with your current jungle? Steve who has over 30 positive Google reviews, or John who has none?
GOOGLE REVIEWS CAN ALSO HELP:
Improve the click-through rate to your website.
Organically increase your SEO.
Gain trust with new clients or customers.
Increase your businesses exposure online as well as with your local SEO.
Convert more customers.
Give you an insight into what you are doing right (or wrong!)
GOOGLE MY BUSINESS
Google reviews make up part of Google My Business which is a free tool to help you get your business a presence online, whether or not you have a website.
Google rules the search engine world with over 70% of the search market share so it's a great place to get noticed!
What is Google My Business?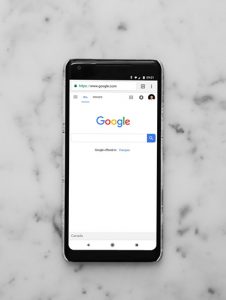 An online portal where you can promote your business free of charge.
Local SEO (Search Engine Optimization) and visibility
Manage how your business appears on Google⁠
Add opening hours⁠
Update map information ⁠
Respond to google reviews of your business⁠⁠
Update map information ⁠⁠
Respond to google reviews of your business⁠
Add details on your services or products⁠
Create posts products or services you sell or events that you are hosting.
To get started go to google.com/business
5 TIPS ON HOW TO GET MORE GOOGLE REVIEWS:
1. Ask them! It's that simple, "if you get a minute would you mind leaving me a review on Google?" If you send them the link too they'll be even more inclined!
2. Offer an incentive – a free cup of coffee, a discount, the choice is up to you.
3. Send an email. Ask them for a favor, say roughly how long it will take them to do it and what a difference it will make. 'It will just take two minutes of your time, and we'd really appreciate you taking the time to leave us a review'.
4. Keep it simple. Could you provide a template with some questions to tick or to rate, with an overall comment at the end!
5. Include a link in your email signature to you Google review page.
Have any questions or want to see if I can help you and your business online why not book a FREE 30 minute consultation?